Welcome To Shanti Children Project!
Shanti Children Project was set up to help local children with their education and general well being. Many poor children in the area are not able to attend school because they can not afford even the most basic school supplies needed. Our project is based on the good will of wonderful Indian and western volunteers living in Tiruvannamalai who contribute their time and energy to our project activities. Besides supporting the children individually, we have cultural programs, fun and educational days for the street children in our area. In such days we try to bring a smile and a laughter to the face and hearts of children who experience difficulties in their daily life.
Our Goal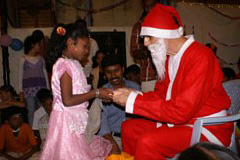 Our goal is to find individual children, orphans, semi orphans, handicapped and those who are unable to attend school for various reasons, and support them with school fees, uniforms, stationary and medical assistance where needed. The projects' goal is to be able to support them throughout their entire schooling years. We put a special emphasis on young girls as they are generally less likely to receive education as it is the men's job in india to financially support the family.
Your Support
We need continuous support as the project expands, more children join us and parents ask us to take their children under the wings of the project. Unfortunately our progress is based on the financial situation of the trust, created specifically for this project. If you desire to help don't hesitate to contact us. We'll let you know of our future activities. Any kind of help is deeply appreciated, whether buying our greeting cards, donations to the project, or participating as a volunteer in our cultural, fun & educational events. Be blessed for your good will.
How To Help?
As the project is growing bigger every year our needs are increasing too. We are being approached by more poor children who need help. You can support this project by helping us in many different ways . Either by cash donation, or sponsoring a particular child or donating materials we need. Also volunteering your time to help the children and our projects. Or even by giving any ideas to improve our work. We welcome any kind of contribution from you. For more information, please read further.