How to help?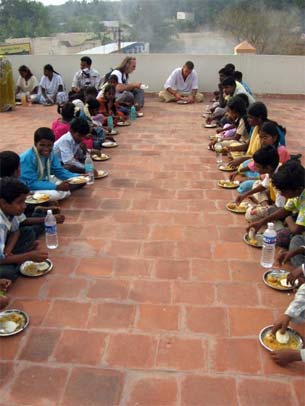 As the project is growing bigger every year our needs are increasing too. We are being approched by more poor children who need help. You can support this project by helping us in many different ways . Either by cash donation, or sposering any particuler kid or giving any materials we need. Also volunteer in ways to help the kids. Or even by giving any ideas to improve our work. We welcome any kind of contribution from you.
With the help you all have been providing last year (2009 – 2010 school year) we were able to help more than a hundred poor children directly with their educational needs, medical help and many other necessaries. Also we were able to provide a good centre to help with education and extra curricular activities to more than 60 poor children. And we were running a variety of programs and tours all year to keep the kids active and happy.
The Shanti Children's Project is part of the "Ananda Social and Education Trust".
All funds donated to this trust will be utilized directly to the project's objectives. As this project is run and managed by volunteers, all funds will be used for the benefit of the children with no bureaucracy or management costs. We are running different fund raising programs and support schemes such as selling Greeting Cards, Tiruvannamalai city maps etc.
We have obtained the 80G certificate of Income Tax. So the local donations to the trust will be eligible to the benefit of income tax deductions.
If you'd like to contribute and support, please write to us at shantichildrenproject@gmail.com
For any queries and information, feel free to contact us